#FollowTheFoodie – A Gourmet It Up Experience At Hakkasan!
My second #followthefoodie restaurant experience with Gourmet It Up was at Hakkasan in Bandra, Mumbai. This isn't my first tryst with this Chinese restaurant and I've even blogged about it a couple of times here and here. Hakkasan has never really disappointed me with their food so I was eagerly awaiting this meal.
The restaurant is massive. They set the tone for the restaurant right from the elevator, because once you step in, there is this odd electric blue lighting which you soon realize is a running theme at the restaurant. Hakkasan is split in two sections. One is the main dining area which is quite massive and faces their open kitchen so you can see the magicians at work. The other area is a more private, quieter, cozier area which is also home to their ' Ling Ling ' bar which is beautifully stocked. It's funny because I've dined her a number of times and always ended up near the bar and now I quite prefer this section to the other.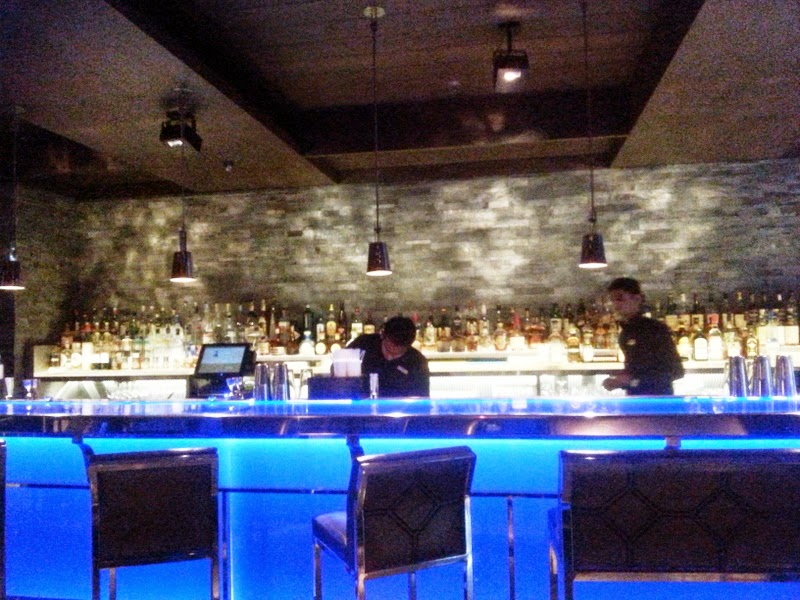 Hakkasan is not an Indian restaurant it's actually an international chain with outlets all over the world and it's fantastic that they have one in Mumbai as well. The menu covers everything from scallop to crab, seaweed to seabass. You name it they cook it. However everything demands its own price so if you're willing to pay for imported ingredients, your wish is their command.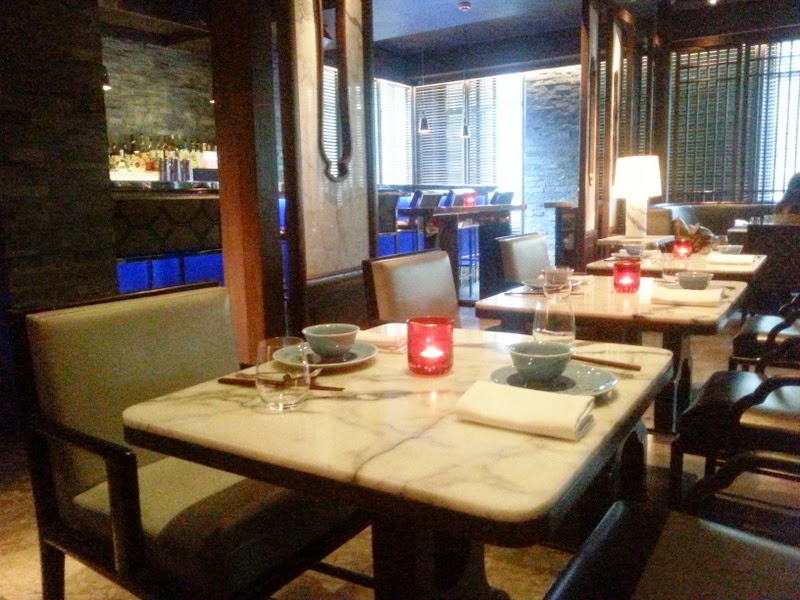 With regard to the Gourmet it up menu, it's what I like to call paisa vasool or value for money. Like all GUI meals, this is a set lunch menu ( I believe there is one for dinner as well ) and in Rs 1200 you get a choice of a soup, 2 starters, 2 mains, 1 rice or noodle and 1 dessert along with unlimited wine per person. Which means if there are two of you dining you actually end up with 14 different items on your table! It goes without saying that these are not normal portion sizes, it's a sample menu but it's enough to get you stuffed and let you try more dishes than you would have ordered otherwise.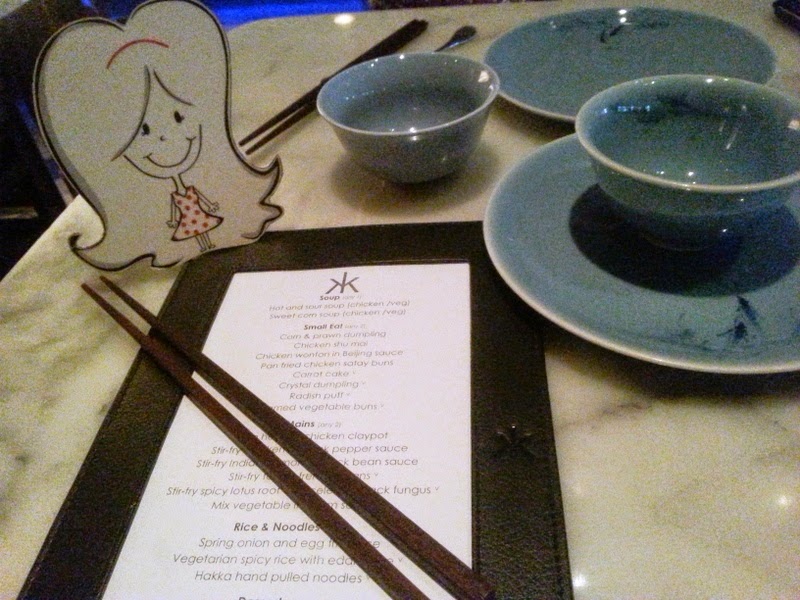 My favourites are their small appetizers and dimsums. If I could, I would eat endless amounts of dimsum all day long from their menu. The chicken shuimai, prawn and corn dimsum, chicken steamed wonton in hoisen sauce and the crystal dumplings with water chestnut mushroom and corn are brilliant!
The main course I find to be slightly on the greasier spicy side. Still tasty but too many spicy options and I ended up picking everything spicy which wasn't as exciting as eating the mains. The best however was the lotus stem and mushroom dish, spicy again but delicious. I also really enjoyed their hand pulled noodles and egg fried rice. The noodles look very oily but I suppose that's what gives it it's unique flavour and the rice is fragrant and delicious. The French beans and tofu is also very interesting and a perfect blend with the chicken dishes.
Another course they excel in is their dessert. I'm not really a chocolate fan but I opted for a mousse cake and an orange and chocolate dessert. Both were beautiful and the orange and chocolate dessert came in a glass with a disc of chocolate on top and a small bowl of hot chocolate sauce. The idea is to pour the chocolate sauce over the disc so it melts and smears into the dessert. It's their signature move, as they do this often for a few of their desserts and it's great fun to do it, not to mention all their desserts are delicious.
The moment of truth or as I like to say, the only important questions after everything is – will I go back ? The answer is absolutely. For this price it's a perfect meal giving me a glimpse of everything.I might re choose some of my mains so I balance out the spicy part but then again there were a lot to choose from and I ended up picking everything spicy without realizing it.
Round 2 of #followthefoodie went off well, I look forward to the next one! The entire menu at Gourmet It Up is here – http://gourmetitup.com/collection/tiny-goes-tasting