Mango Musings With Tropicana Slice Alphonso
The summer is always an unbearable time of the year. With temperatures soaring and you are feel like you are in a constant pool of sweat it's really no fun. Restaurants come out with cliched offers to ' beat the heat ' with weird looking refreshments and there is nothing exciting about the heat. That is of course till you realise that it's also Mango Season! I want to say I'm in love with Mangoes but that is not entirely true. It is only the king of mangoes – the Alfonso that is really my true love.
I don't care much for the other variants but the joy of devouring an Alfonso with the fruit smeared all over your face and hands can't quite be described. While I absolutely adore this fruit, sadly I can't seem to indulge quite as much as the next person because I am mildly allergic to them. What I mean by that is if I indulge to much then unfortunately I break out into a nasty bout of pimples. This has me curbing my enthusiasm when it comes to the fruit which makes me grumpy all over again. Which is why when I found out Tropicana Slice was launching a new drink called ' Tropicana Slice Alphonso ' it is the closest I can come to eating my beloved fruit hassle free. What I like the most is that this doesn't taste like an artificial copy of the fruit unlike other flavoured drinks. This tastes exactly full of Alphonso mango and if you didn't know better and someone served this to you in a glass without the packaging, you would think it's fresh juice they have made and squeezed out of the fruit itself.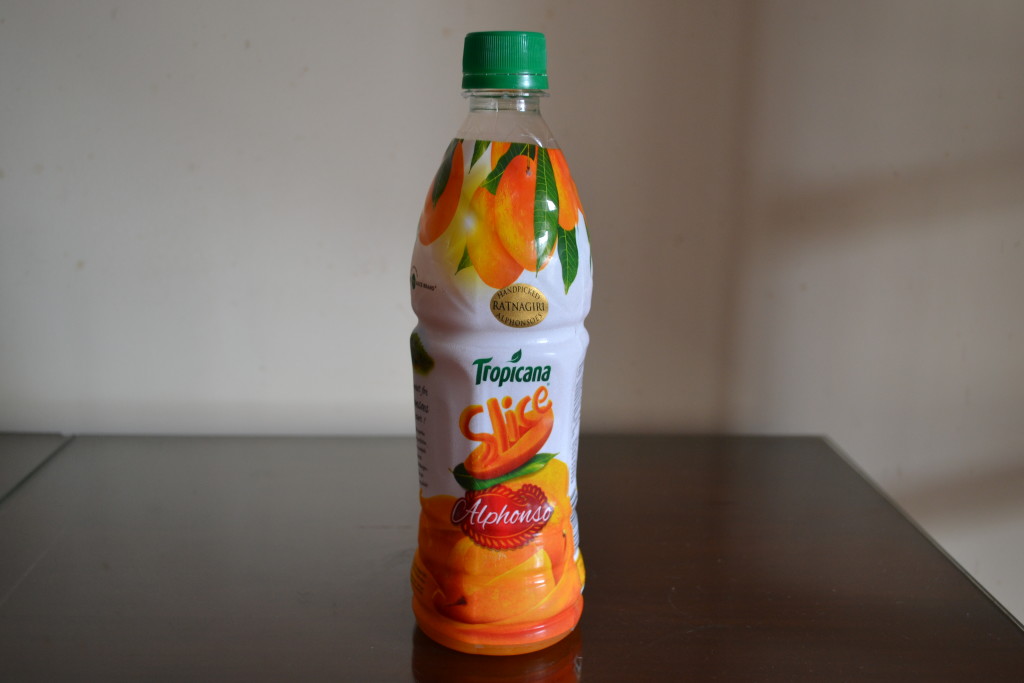 It's really not enough to just drink it on it's own, there really is only so much I can drink at a time so I decided to try and mix it up and come up with my simple refreshing Alfonso recipes using the Tropicana Slice Alfonso instead of the chunks of fruit. These are what I came up with – Mango Lassi !
I wanted to attempt a smoothie but since I decided not to use any ice cream or cream of sorts nor any fresh fruit I decided to opt for a Lassi.This is my ideal Mango drink.
In this heat I tend to eat a LOT of dahi. I think it's the best thing to keep cool and it's also one of my favourite snacks. All I did here was take about a couple of spoons full of dahi and whip it into a smooth pulp and got rid of any lumps. You could use a blender to fasten the process but I didn't want the additional hassle of cleaning so I just went old school and used a small whisk. I added what I like to call generous amounts of the Tropicana Slice Alphonso and mixed it into the dahi so it catches this pale yellow colour. I added some sugar just to give it a slight bit of sweetness and then mixed it all again so the sugar granules dissolve well. I chilled it in the refrigerator and served it in these adorable little kulhads I found in a local market in Lonavla. I've been meaning to use them for ages and this seemed like the perfect way to have my drink.
That's all there really is to it. I could have used the Tropicana Slice in any form I could have made home made ice cream, a mousse or even a slightly adventurous salad dressing. However, in this heat I feel too sluggish to do anything remotely complicated and of course I am desperately trying to eat clean which would explain this recipe
The easiest way to get your own bottle is from Amazon or you could gift a box of this delicious drink which makes a perfect present specially for someone who enjoys experimenting in the kitchen. To know more you can get a peek at their TVC right here –
Disclaimer : This post was made possible by the good folks from Tropicana Slice Alphonso but views, thoughts, recipes, ideas and pictures are all mine.