Peruvian Cuisine In Mumbai ? Who Would Have Thought ! Welcome To The Jungle Lima !
If there is one cuisine that really excites me it has got to be Peruvian food. I can't say it's my favourite because that would imply I eat it regularly which sadly I don't as I have no access to it unless I'm travelling. It's been one of the hottest cuisines globally for a couple of years now and I'm intrigued by it. I've had superb meals in London which really was my first taste and then at the gorgeous Park Hyatt Hotel in Goa as they launched their Ceviche Menu which btw is spectacular. So again I can't say this is a cuisine I understand completely but it is one I'm slowly familiarizing myself with and I'm beginning to understand the flavours better.
If you told me a year ago that we'd have Peruvian food in Mumbai I'd have laughed. It seems impossible because accessibility is tough. Peru is an easy 3 or 4 flights away and I'm not even going to begin to count total travelling hours. It's not easy to import the ingredients and most importantly it's flavours we are not traditionally use to.
Then I met a wonderful chef from England during the launch of his maiden venture in the city and he told me about a Peruvian inspired bar next door and my jaws dropped. Chef Atul Kocchar has managed to do what I once considered impossible and has opened his own Peruvian Bar in the city and it's called Lima.
Lima is primarily a bar so there is no elaborate menu but plenty of small plates. There is no Pisco on the menu currently which I personally am fine with because it's not my favourite drink but I suppose Pisco is to Peru what Fenny is to Goa so once they sort out their supply troubles it will be back on the menu. They do have a Caipirinha which is really more a Brazilian drink and is made with cachaca which is sugar cane based but I love it. Lots of Rum and Tequila based signature cocktails as well. The menu is split into five sections – Ceviche, Tiradito, Salads, Churrasco Grill and Antojitos. I'm going to break down everything I had.
Ceviche is a classic Peruvian or Latin American style of cooking. It is traditionally with seafood, fresh raw fish that has been cured in citrus juices, usually lime or lemon and slightly spiced sometimes with chili or garnished with red onion slivers. The ceviche on the menu was a sea bass with avocado and onion, made with Tiger's Milk ( Peruvian style citrus marinade so basically the lime salt pepper chili and raw onions ) It's one of my favourites from their menu.
The second one is a Mushroom Ceviche with Enoki Oyster, Shimji Shitake Mushrooms and Ponzu sauce. Now this is what they call a hot ceviche as it's stir fried and cooked in Ponzu reduction (  A Japanese citrus based sauce made from rice wine, rice wine vinegar, fish flakes and seaweed but I'm guessing they have a vegetarian sauce ) A lot of folks don't realise there is a strong Japanese and Chinese influence in Peruvian cuisine due to the Asian immigrant workers. To me this is not a ceviche it's a dish they had to put for vegetarians but it's still really tasty and I enjoyed it for what it was, I'd order it again in a heartbeat.
Tiradito is just like a sashimi or a carapaccio where the meat or seafood is cut in this slivers and dressed in a spicy sauce, usually Peruvian Chili. The Tuna with chia seeds and yellow aji paste ( typical Peruvian Chili ) is a great dish, a touch of spice from the sauce but I wish the tuna was slice a little thinner.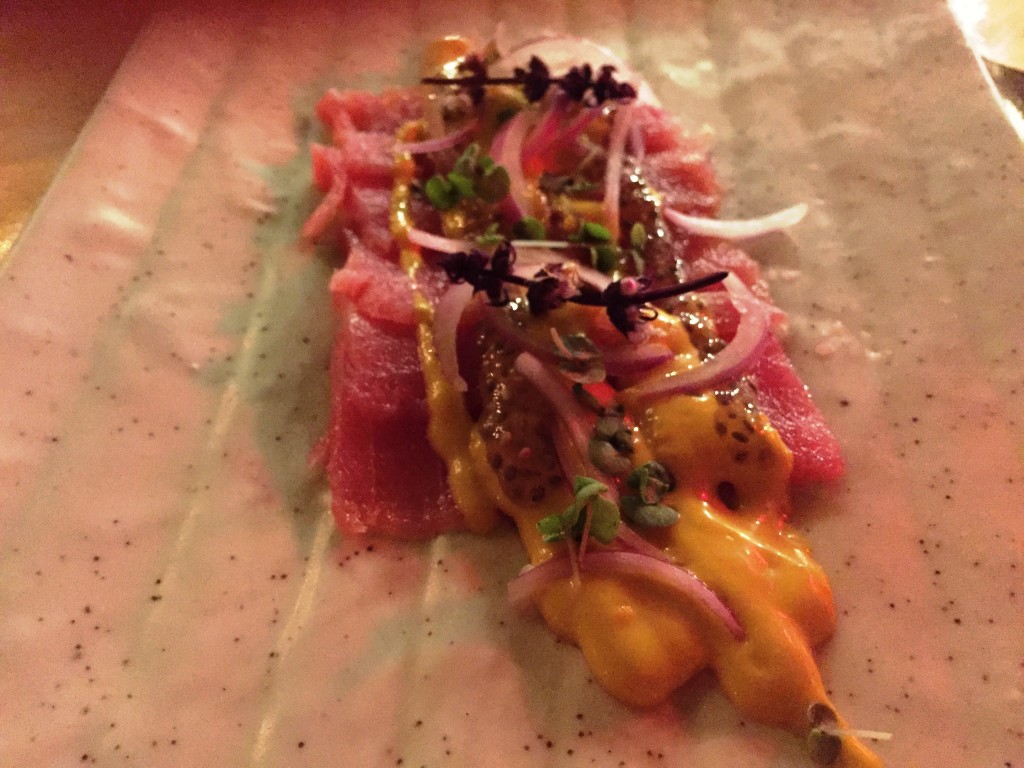 The Vegetarian option which again just like the Ceviche is not really a Tiradito but its a dish of Five beans namely Fava bean, Kidney Bean, Edamame Bean and Pigeon Pea with Aji Amarillo ( another type of Peruvian Chili ). This is a fabulous dish. I have to say the vegetarian dishes are superbly flavourful but not traditional ceviche or tiradito because sadly those are seafood based dishes.
The Saturated Root and Corn salad with Purple Potatoes ( from Peru ) Parsnips, Sweet Potato with salsa dressing is strictly average. It's also my least favourite dish as it doens't do much really. The corn used is baby corn but does nothing for it really.
Quinoa salad with red, white and black quinoa and passion fruit leche is tart but a very interesting salad. It's also super healthy if you want something light. I personally don't like very tart flavours but my dinner companion lapped it all up.
The Palm of Heart with Amaranth and orange reduction is beautiful. It's almost like Asparagus in terms or texture I think that's the closest I can think of and not something I've seen on many menus so this is a great choice . The flavour is really in the orange sauce but the palm of heart is a great vegetable.
Chicken Casua is not what I would traditionally term a salad but it's chicken with purple potato ( which is served cold ) and Huancaina sauce and a garnish of grated boiled eggs that looks deceptively like cheese. Basically Huancaina is a dish of Potato and Boiled Eggs in a spicy sauce. If anyone ever ate at Cafe Aylanto in Andheri before it shut this was on of the dishes they did well.  Here it's presented a little differently with the eggs are part of the garnish and the hero being the potato and chicken but I wasn't overly impressed.
Churrasco grill is a South American style of grilling beef. I suppose it works for any meat but I associate it with Brazil and beef. Sadly the grill section here has no beef or lamb but prawn, corn, chicken and chicken liver. The prawns are huge and dressed with lime chili and weirdly Worcestershire sauce. The Chicken is with honey and  Gochujung paste which is a Korean spicy paste.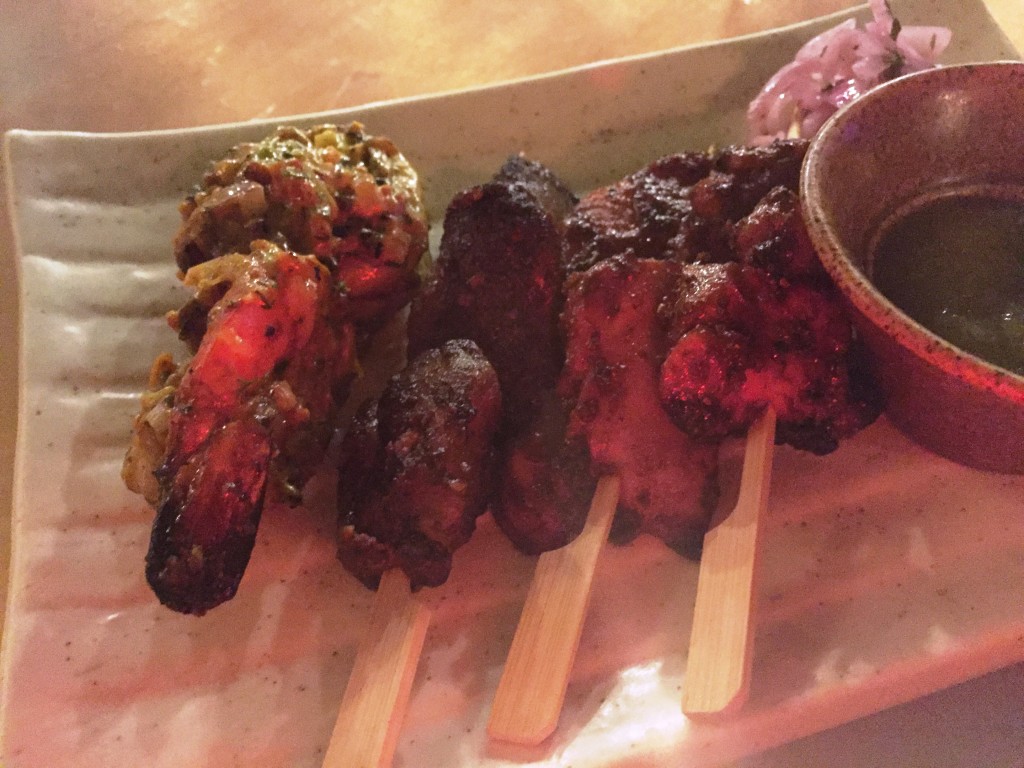 The last section which I would personally skip entirely is the Antojitos which translates to Mexican Street Food. It has Chimichangas which is a deep fried roll with lamb or veggies, corn and cheese. It's rather dry and too thick a pastry for me but it comes with guacamole, salsa and sour cream. The Quesadilla is not my kind of dish but I know a lot of people enjoy it as they do Empanadas which I didn't' even bother ordering.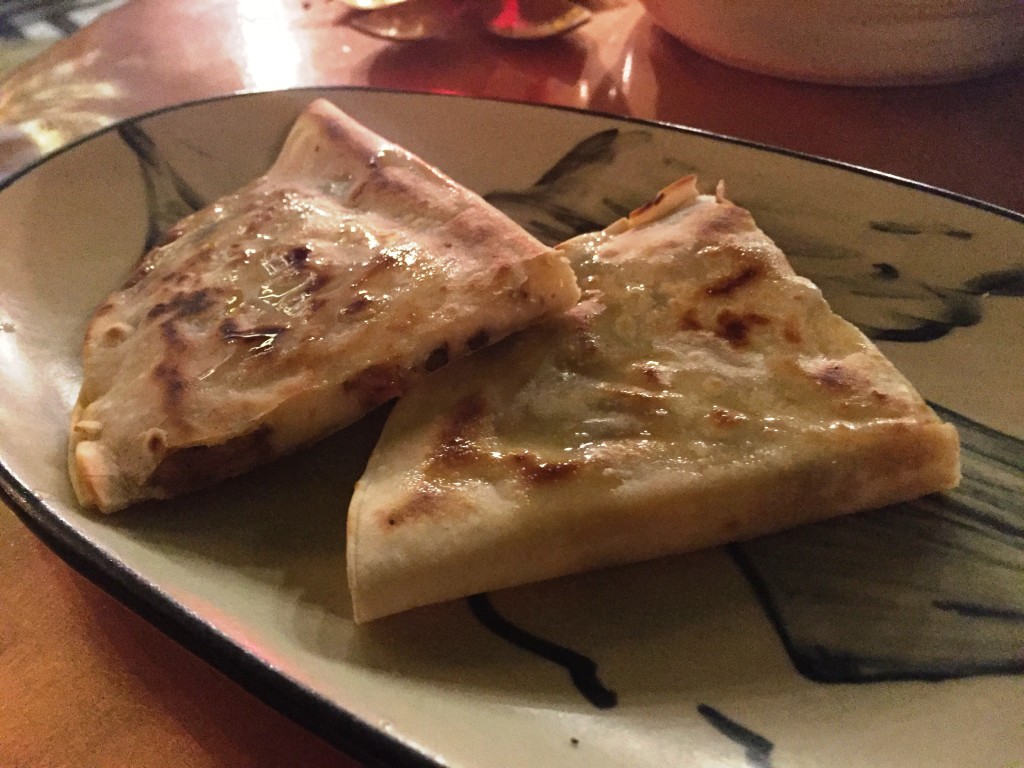 No dessert on this menu just about 17 dishes to choose from so not really a dinner place but if you enjoy small plates and a few drinks its worth it. It isn't cheap, everything is 600 – 700 INR up but I think worth it to try something new. I don't think this is the most outstanding Peruvian meal I have had but to be fair, it's not easy getting all the ingredients and they had only Indian corn which isn't exciting. The yellow Aji and Aji Amarillo are both imported and exquisite they really elevate everything but I think I will re visit to explore more once they're passed their initial teething stage ( they've only been open a couple of weeks ).
Some of the dishes really sing some are ok but if your taste buds are fed up of the usual and begging for a change, pop into Lima and enjoy.