An Italian Summer Dream at Botticino with Restaurant Week And Ola Cabs
I've been a big fan of Restaurant Week India which to me is one of the most interesting endeavours in the food industry in India. This five year old property encourages people to dine at some of the best restaurants in the city and enjoy a fixed coursed meal at a fixed ( much more affordable ) price. So you can pick a gorgeous restaurant in a 5 star hotel and end up paying half of what you would on a normal day. I think its absolutely genius and most importantly wonderful because it really encourages folks to ditch the mediocre crap and indulge their taste buds in some fine food without breaking the bank.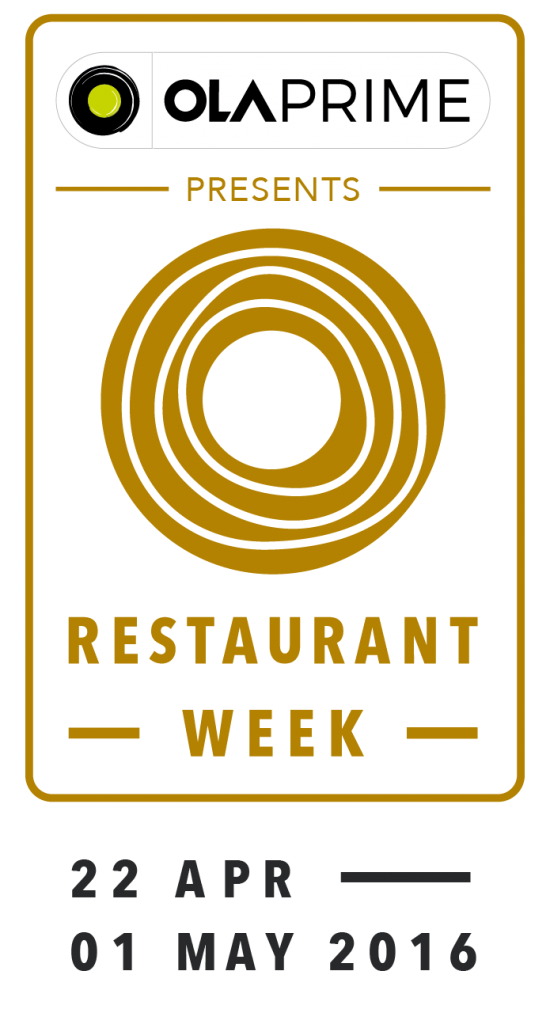 I've dine during restaurant week before and even Dine Fest which is another similar property and I'm happy to report that every meal has been undoubtedly satisfying. So when I was asked to preview the festival, I blindly said yes. This year, Restaurant Week has proudly associated with Ola Prime and I have to admit while I haven't really used them before or booked a cab with them, I most certainly will now. I had a seamless experience while booking an Ola Prime ( slightly more than their regular Ola minis ) and couldn't fault my ride. Interestingly enough it's the only air conditioned cab ( Only the Old Prime ) that has 4G Wifi and it auto connects which means the first time you ride you connect to their wifi but the second time you book an Ola Prime you'll automatically connect to their 4g which quite frankly, for lack of a better word, is really very cool!
The restaurant I picked  ( I could choose ) was Botticino at the Trident BKC which I think is one of the best Italian restaurants in the city. I've had wonderful meals at the hotel actually at both Maya and Botticino so this was an easy pick. The way the Restaurant Week Menu works is of course you go to their website, choose a restaurant and make a booking specifying that it is for Restaurant Week. Once your at the table they give you a special menu which has several options from which you can choose One appetizer, One Main course and One dessert. What Botticino has very cleverly done is give you almost 6 or 7 options in each course and they are all popular dishes from their regular menu.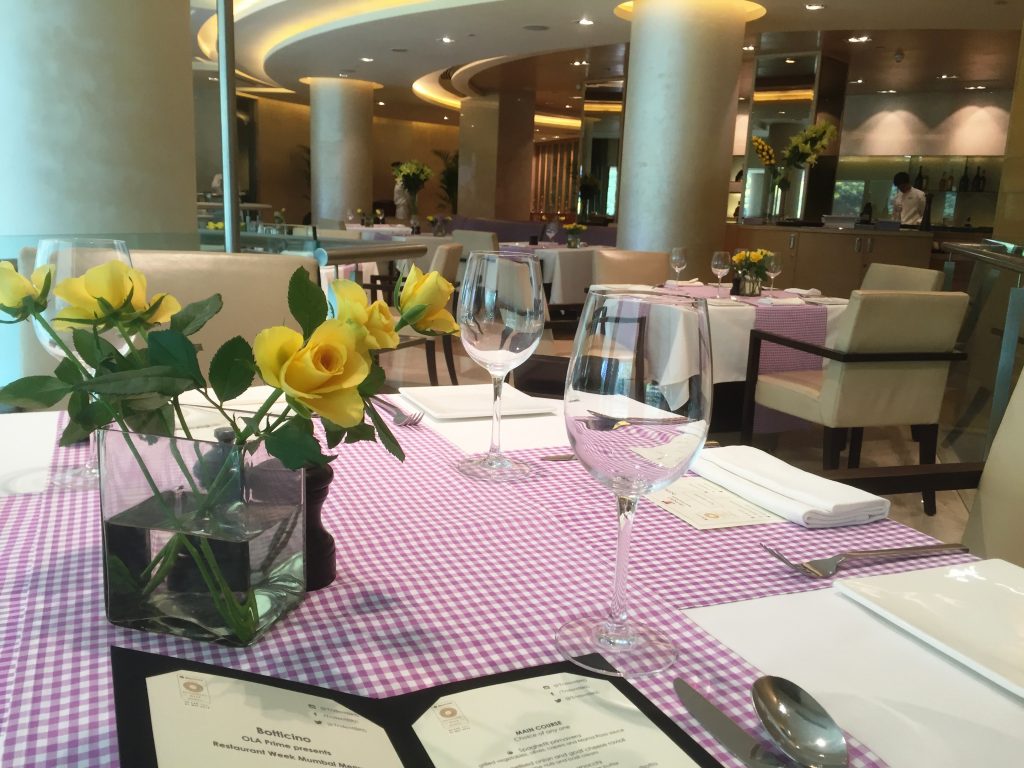 The only addition to the menu I found is that they have what is called RW Signatures which are a additional dishes that you could order but they are additionally priced at Rs 200 or Rs 300 which is still very reasonable.
For my appetizer I chose a Parmesan and Black Pepper Crusted Chicken with Grape Reduction and Creamy Potato Mash. My word I have to say, this isn't something I've eaten before because it was lovely tender chicken pieces on a bed of the creamiest mash potatoes swimming in a pool of purple reduction. I wasn't expecting such a large appetizer but despite the generous amount of grape reduction and the huge portion size I managed to finish it and enjoy every bit of it. It's interesting because the sauce is a slight bit sweet almost like how you would taste a grape jam or compote and a welcome change from regular brown gravy.
Also opted for one of the RW Signatures since Chef Bhasin at the restaurant insisted it be had was their very interesting Beetroot Tartare which is served with orange spheres that act as a dressing for the salad leaves once you pierce it, beetroot macaroons ( not exactly macaroons because it's devoid of almonds or eggs but tastes great ) which are stuffed with a preserved lemon gel that really just bursts in your mouth. I don't really like beetroot I avoid it at all costs but I have to say this was unlike anything I was anticipating. I can't quite put my finger on it but the beets are slightly creamier and just taste very light and not like a raw beetroot would, you know those slices that you're forced to eat as a child. A wonderful dish and worthy of being a Signature.
For my main course I chose a Prawn Tagliatelle with Swiss Chard and Spicy Broccoli Sauce. For some reason I was expecting it with just olive oil and the sauce but what was presented was the Tagliatelle tossed in a tomato sauce with the prawn and served on a bed of broccoli sauce. I wouldn't call the sauce spicy but has a slight kick to it and for me too thick to really enjoy. Loved the pasta though, always a pleasure to eat it al dente without having to ask specifically and the prawns and tomato -esque sauce was tasty. Again a massive portion and sadly I couldn't do justice to this course. Served me right for pecking at the delectable bread basket and beautiful caramlised onion dip.
My options for dessert were all tempting but I've developed a slight fondness for Tiramisu and having had it at the restaurant previously I just blindly went for that. It doesn't have that overpowering coffee flavour so that really works for me and it's a beautifully heavy dessert served with a tart raspberry sorbet. The perfect end to a perfect meal.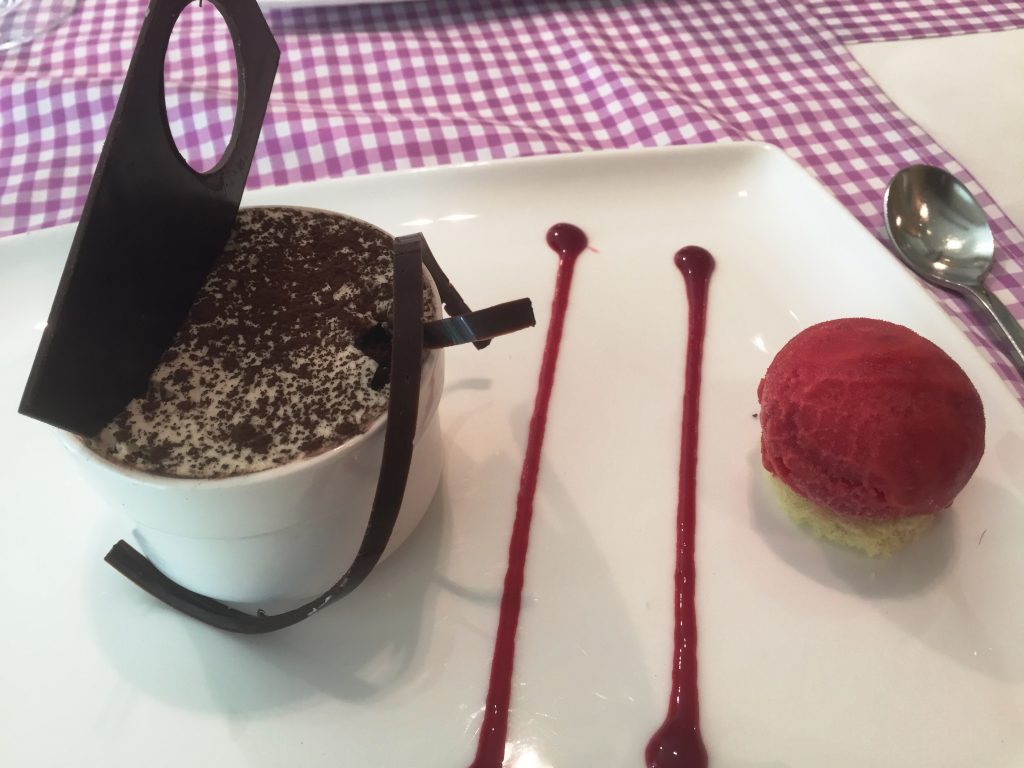 I must also give a special mention to the Chicken Pavia which is a Consomme ( clear broth like soup ) a poached egg and parmesan crusted bread which looked really good thought I didn't taste it.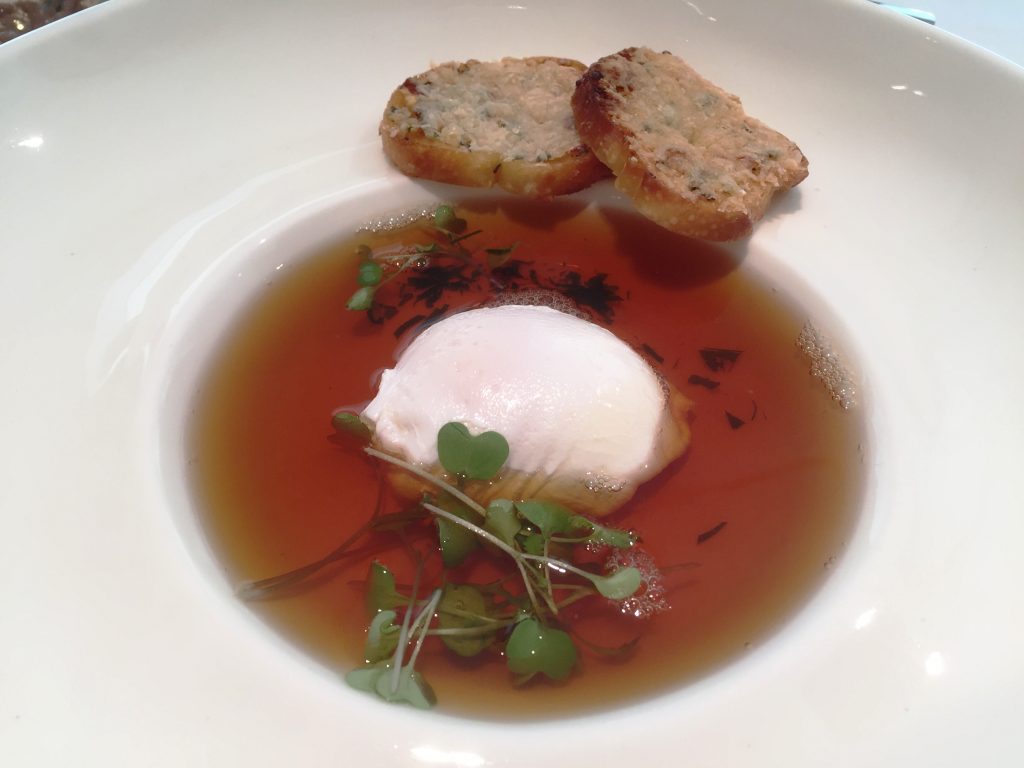 The Sicilian Cassata with Fennel Ice cream was another fabulous dessert I had to nibble at because it is unlike any cassata you're imagining and is actually a cheese based one with nuts and orange segments on top. Just beautiful.
It might sound like it's a little but this meal had me stuffed to the gills so much so that it was lunch and for dinner I had soup. The best part is that they don't discriminate and serve you regular portions which are massive. I don't know how anyone gets any work done post meals like this. I know I didn't. I just booked my Ola Prime, lounge in the air conditioned car with sun shades on every window merrily tweeting about my meal through my cab ride.
For more details about restaurant week you can visit their  website as offers are available for lunch and dinner in cities like Mumbai, Delhi, Bangalore, Chennai and Kolkata. If you're lazy to drive or would like to enjoy a drink with your meal then Ola Prime has you covered. Restaurant Week India begins 22nd April right till 1st May 2016. If you do end up at one of their many restaurants I'd love to hear from you and take your recommendations! Happy Eating Folks!
Disclaimer : This post was done in association with Ola Prime and Restaurant Week India. However all thoughts, opinions and impressions are my own honest ones.