The Druid Garden
My trysts with Bangalore city are both swift and scarce. For some reason I never seem to spend enough time there and all my visits are fleeting at best. My recent trip was no different except that I was there for 3 meals and each one was memorable. This city really knows how to eat well. I know all the main hotspots or at least I've heard about them all and to the best of my knowledge they're packed in places like Indiranagar or Koramangala but this time I went further North and an excellent culinary experience. I haven't posted a restaurant review on the blog in ages but felt so comfortable here that I decided to.
The Druid Garden is the newest addition to Bangalore's competitive food space and one I enjoyed immensely. Forget for a minute that it's possibly the sexiest eatery that part of town, forget that it's probably the largest eatery around in terms of sheer space ( 14000 sq feet ) and forget that it's always pumping even on a drab Tuesday night. The real highlight for me was the fact that I ate some very and I mean very good food in an extremely relaxed yet comfortable environment.
The space itself is massive with these bench like tables that gives me this distinct feeling of being in one of the beer gardens in Munich. The open bar that stretches across one side of the space covered with colourful bottles on display makes you feel like indulging in a sexy cocktail ( and they've got lots of those )but that's only till you notice the brewery next to it. Sadly they only start brewing their own brand of Czech beer in February but there's plenty to choose from in the interim. Interestingly they might be the only eatery I've ever been to that has a detachable sun roof. So suddenly when the temperature drops in the cooler months you feel like you're dining outdoors under a star lit sky making you forget for a moment that you're in a thumping metropolis. It also helps control the level of noise so neighbours don't complain about the music which I think is rather thoughtful considering I live next to a nightclub and constantly curse at the nuisance they cause.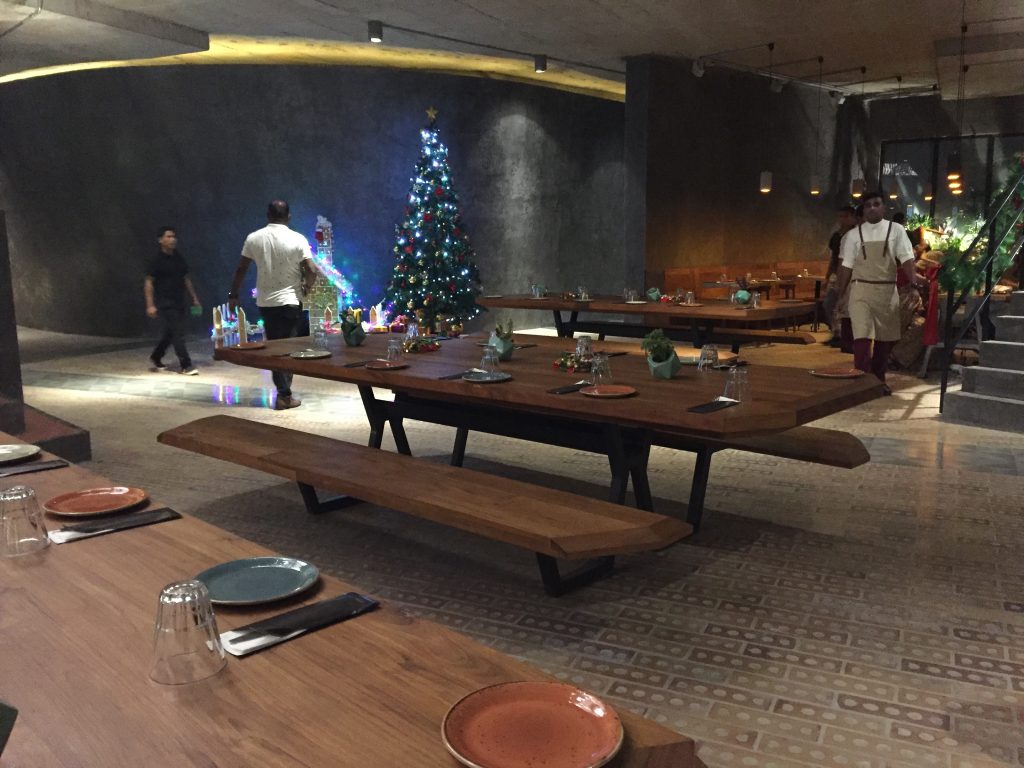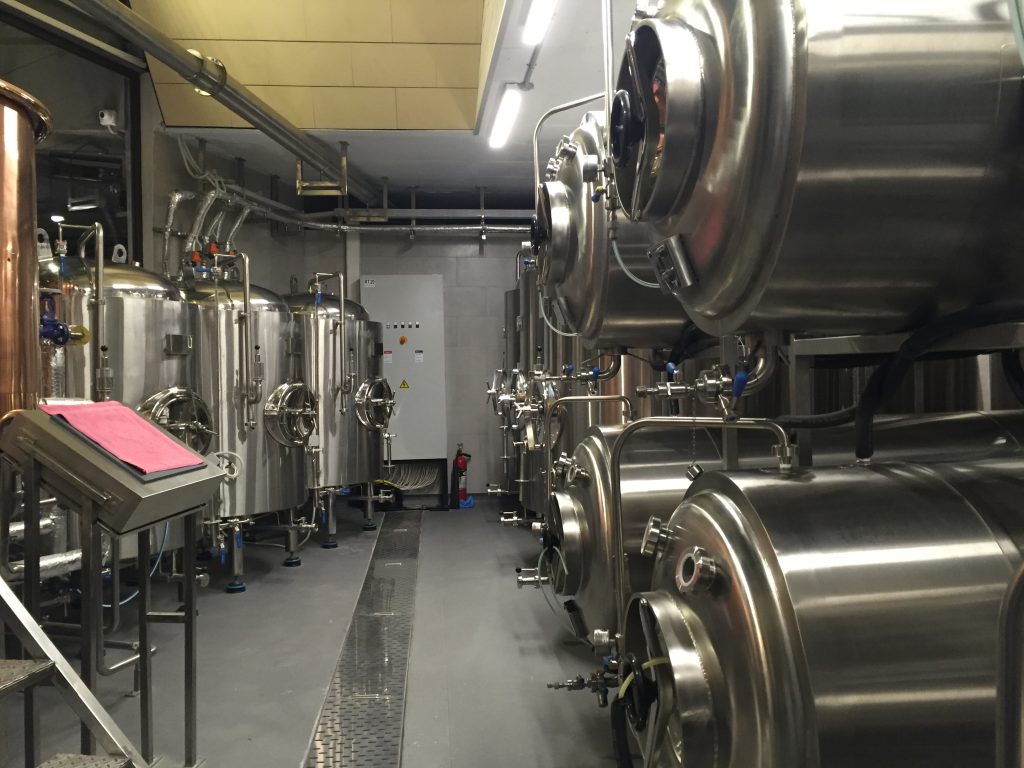 A quick glance at the menu and you can tell they are inspired by good food from across the globe. There are  host of dishes from different countries and the focus here isn't on being cuisine centric but to have tasty food with good quality ingredients.
My favourites from my meal would include the Campagna Burrata Salad with heirloom tomatoes and a blood orange dressing. It is actually one of the tastiest burrata salads I've had and all the credit goes to that incredibly flavourful dressing. The Smorrebrod with roasted red peppers and anchovy paste is another dish that isn't frequently seen on many menus but its simplicity is what makes it so tasty. A smorrebrod is a Danish open sandwich of sorts, basically rye bread with butter or toppings and this one with its roasted red bell pepper and anchovies was delicious.
When you come to place to guzzle beer or knock back a few drinks, the staples like tikkas and kebabs are always attractive. There are plenty of those on the menu including tandoori prawns,  stuffed mushrooms and all sorts of Shammi Kebabs but the real highlight for me was their Kozhi Roast and a delectable Kane Tawa Fry. Kozhi which I was told is pronounced ' Kori ' is a chicken dish made in Kerala and the Kane pronounced ' Kaa nay ' is a Lady fish local to Karnataka which is downright delectable. For me, more than tikkas it is these two that work superbly as appetizers and warm you up for a meal.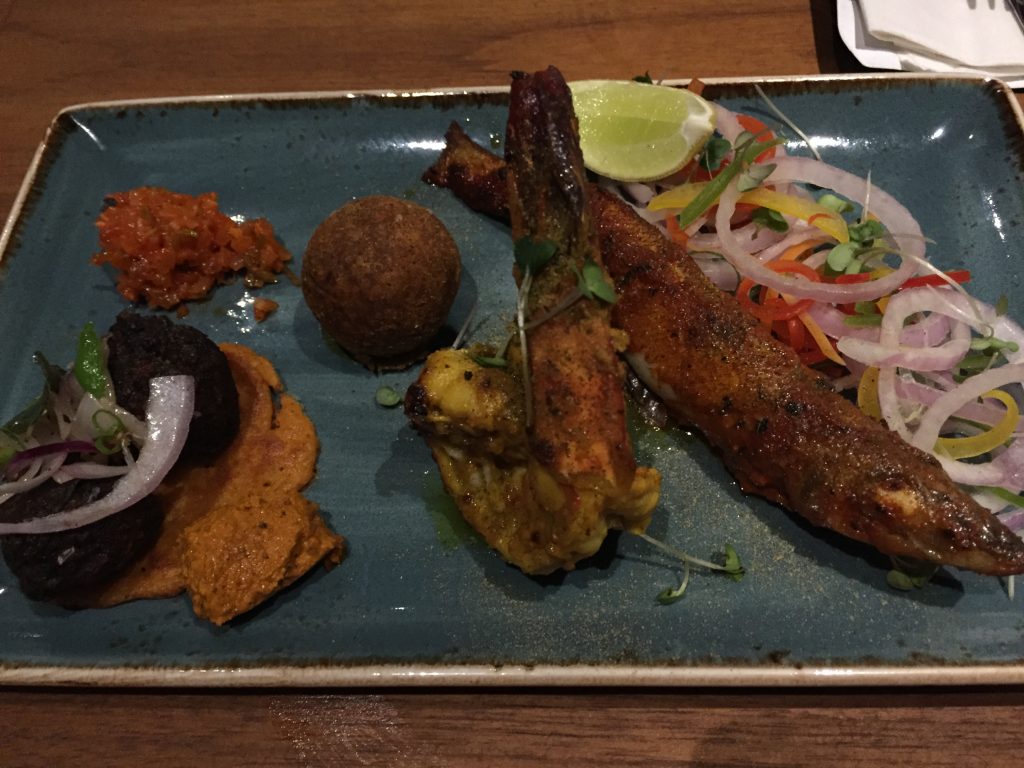 My favourite picks on any menu will always be beef and shrimp so a selection of chipotle beef tacos, the open softer tacos and the shrimp and avocado arepa were perfect for me. The Arepa is essentially a sandwich and looks almost like a bao but it's a Spanish dish made with dough and are smaller bite sized snacks. You can't really go wrong with a combination like shrimp and avocado and once again, it's the simple stuff that I find the tastiest.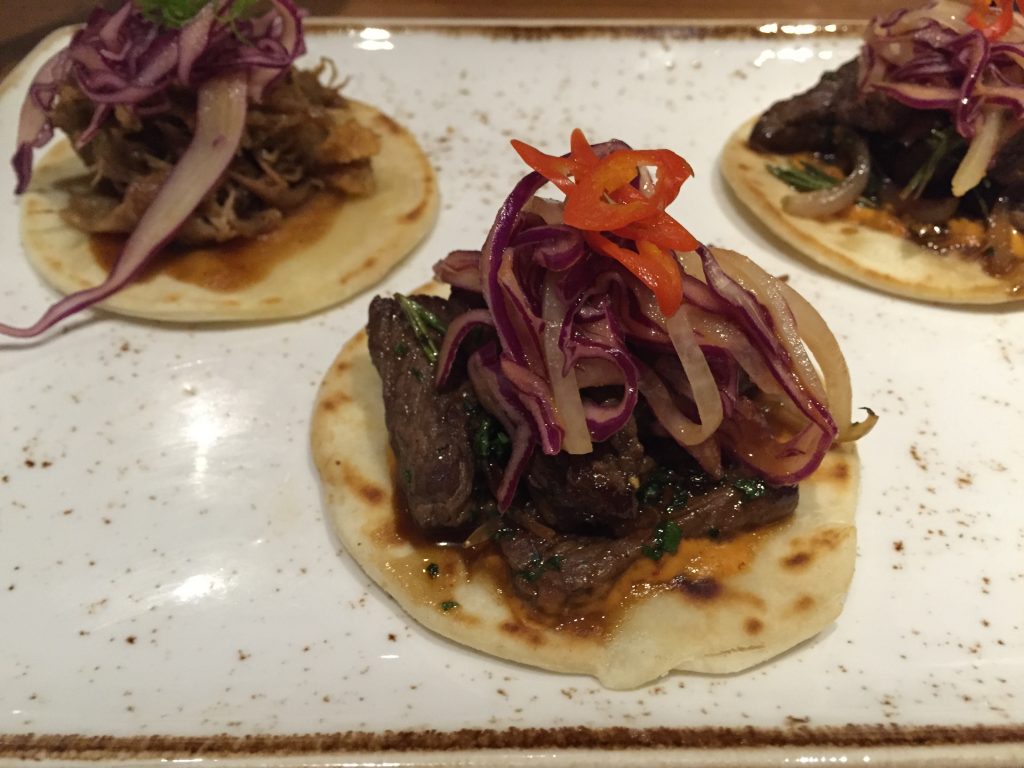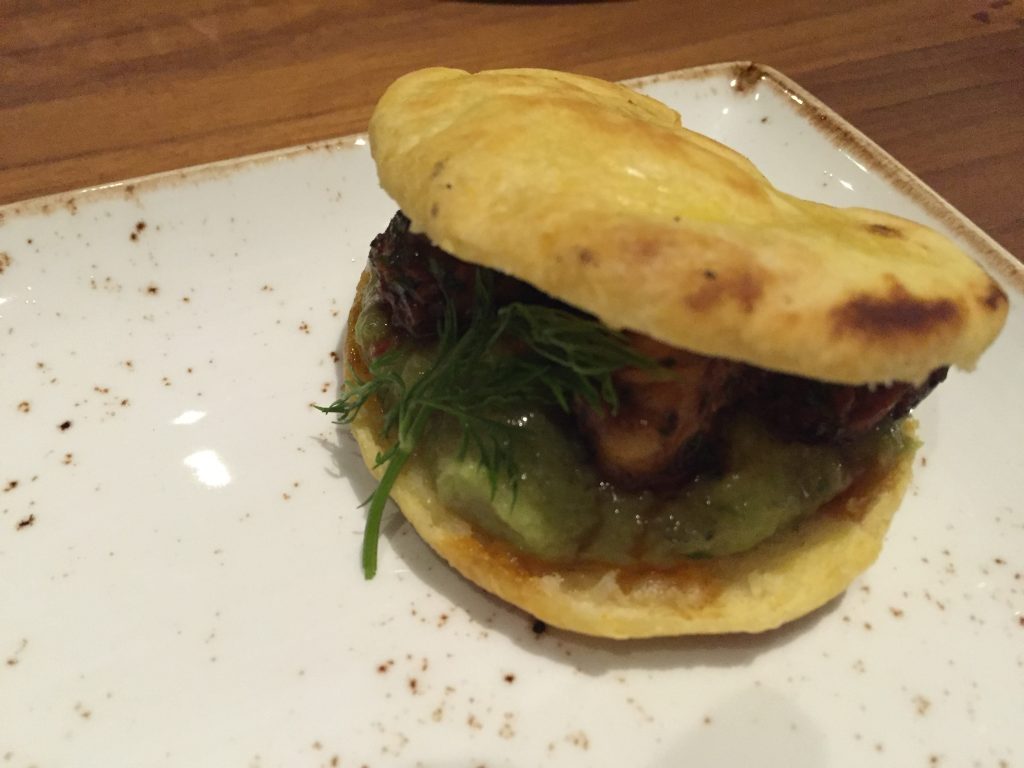 For main course a big hearty plate of some large grilled jumbo prawns with confit vegetables and a miso beurre blanc which is heaven on a plate for me. This is deceptively filling but incredibly flavourful specially with the miso inspired thick buttery sauce.
Dessert is probably my least favourite meal but despite completely indulging all through dinner I made sure there was space left to sample what people have been raving about. The South African malwa cake with Sichuan ice cream sounds ambitious and the ice cream doesn't work for me but the cake itself with a generous swirl of clotted cream is stunning. The chocolate and hazelnut torte is every chocoholics dream but it is the trio of sorbets that deserves a mention. Kaffir lime, mixed berries and salted caramel are just three of the many flavoured sorbets that are made in-house and much like the rest of the menu will keep changing as per what is in season.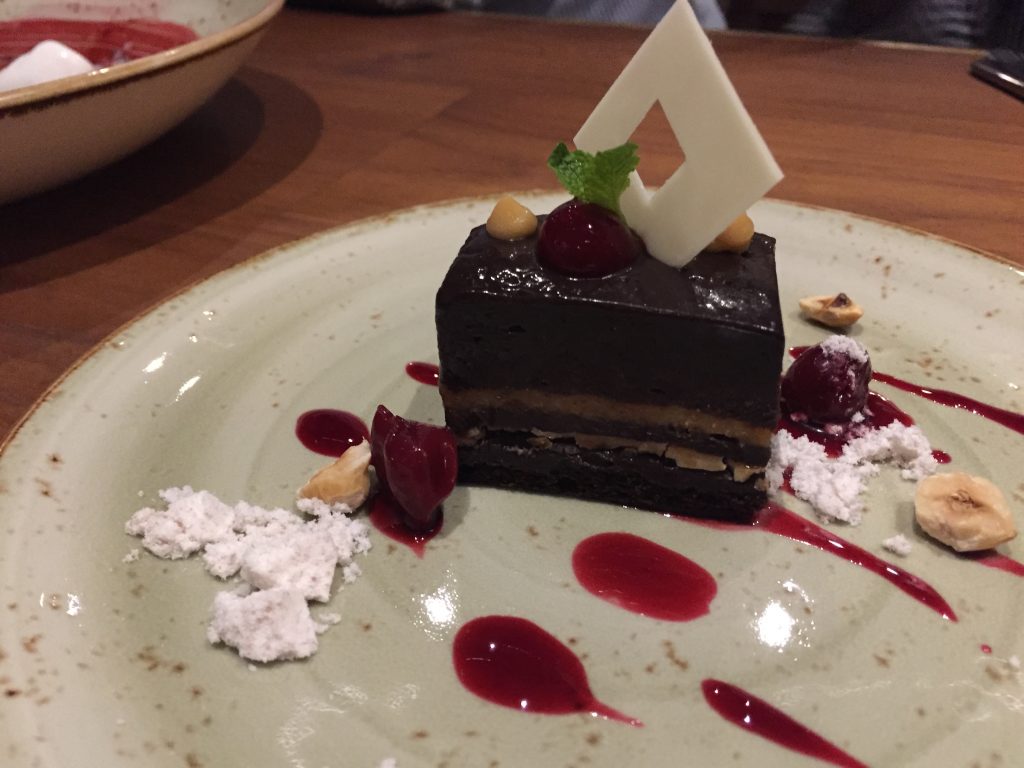 While there we were  table of four this amount of food had us stuffed to the gills but it is not even a dent in their current menu. In terms of variety, different choices, various flavours and textures – there is more than enough but what's really exciting is that they plan to do more crafted and curated menus in the future to highlight various ingredients.
What really works is that while the names of dishes might sound intimidating to a person who isn't familiar with them, the food that is ultimately served to you is unpretentious and bursting with flavour. The next time you're headed to Bangalore, this eatery/bar/brewery/ restaurant/ happiness is well worth your time.
For more updates on my food and travel adventures, follow me on Facebook, Twitter, Instagram and Snapchat : thetinytaster