This Swey Please – A Rooftop Restaurant In The Heart Of South Mumbai
Mumbai is no stranger to new restaurants opening almost every second day and the kind of work I do, my inbox is always flooded with invites to review places to a polite ' please feel free to drop by ' message. While I understand it is their job to ensure that I know about these place, I have become ridiculously selective with the places I visit and the things I write about specially on the blog. Which is why there is a restaurant review after eons. The are two reasons I chose to accept said invitation and then later felt the need to write about it. Firstly is because I genuinely enjoyed myself and thought the entire experience not just the food made it memorable for both me and my friends that joined me. Secondly is because for the very first time there is a beautiful rooftop space in South Mumbai where you hear no traffic from the road, have this gorgeous sea breeze and beautiful food not to mention stunning cocktails and you don't have to sell your soul to pay your bill at the end of the night. To be able to enjoy the ambiance and not have a bill that runs into an obscene amount is a huge plus point.  I was invited to experience the place with a small intimate group of friends to celebrate Women's Day. Now truth be told I'm the last person who really cares about things like this but I'm pretty sure this could have happened on any other day but honestly the date didn't affect me. I picked four beautiful strong women I know and had a wonderful night out after ages.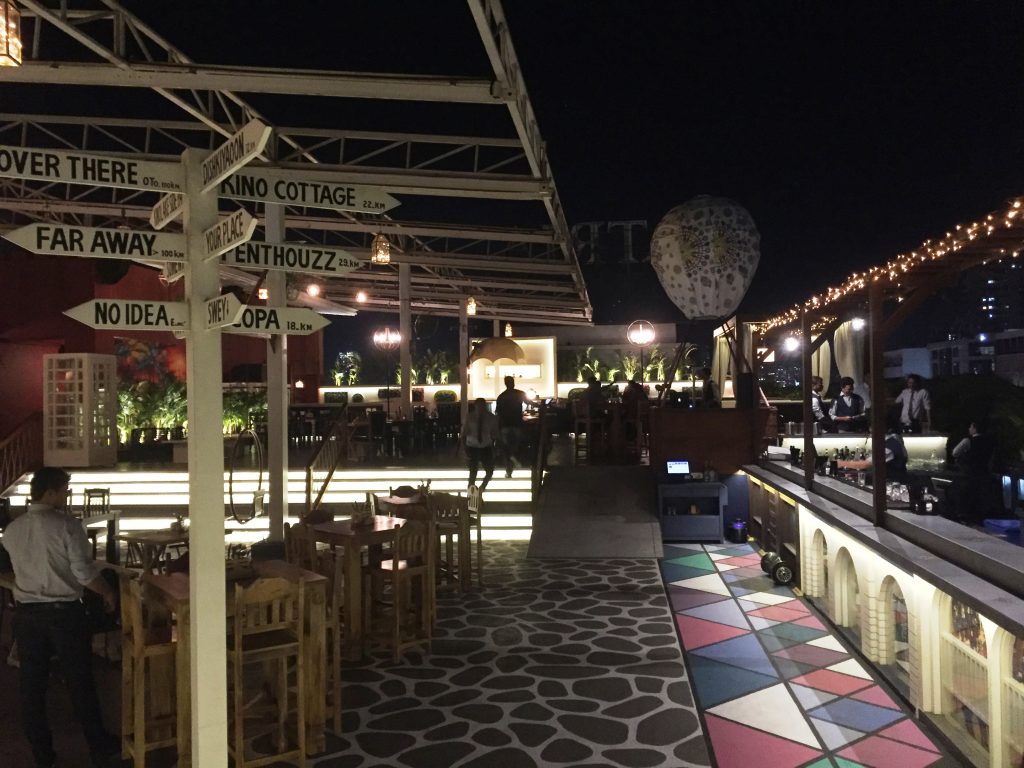 The restaurant is located on the terrace of Atria Mall in Worli which apart from the few restaurants on its top level seems like a ghost town but once you climb up to Swey it's like you've come to a whole new space. There is a long bar on one side as you enter and different tables all around, some higher ones for dining, a few lower lounge like cabana tables for a more relaxed alcohol fueled evening and soft music playing till it starts to pick up post 10pm.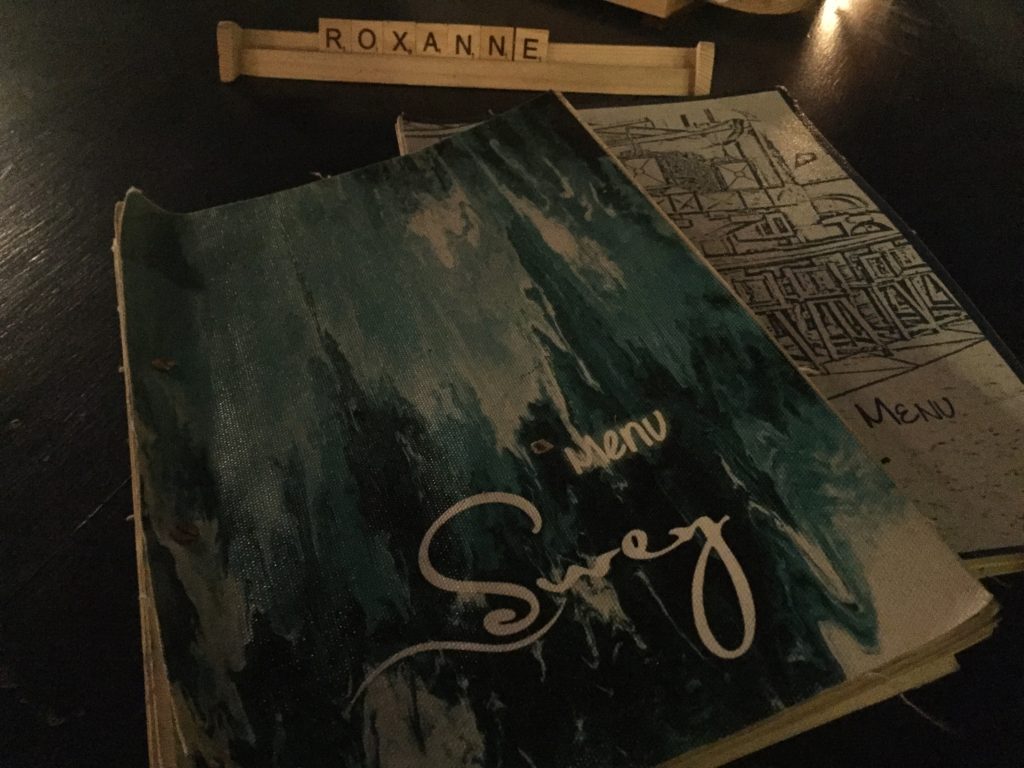 I'm the first one to steer clear from the beverage menu. I have this rule where I'd rather eat my calories instead of drinking them but I found myself completely intrigued because they casually mentioned that they make their own in house jams and they create their cocktails with them which I had never heard of. So between all of us we tried 3 of their cocktails and a mocktail version of one of them.  An Apple A Day is Vodka mixed with home made apple jam , Who Knows Donald  which is Bourbon soaked cranberries with home made bitters and sugar and All Fresh, a non alcoholic mix of apple, orange, kale, cucumber, mint and ginger. You know you've got something good when almost everyone goes for round two of the same thing.  Sadly no pictures of the first two but I remembered to take one towards the end of the last All Fresh.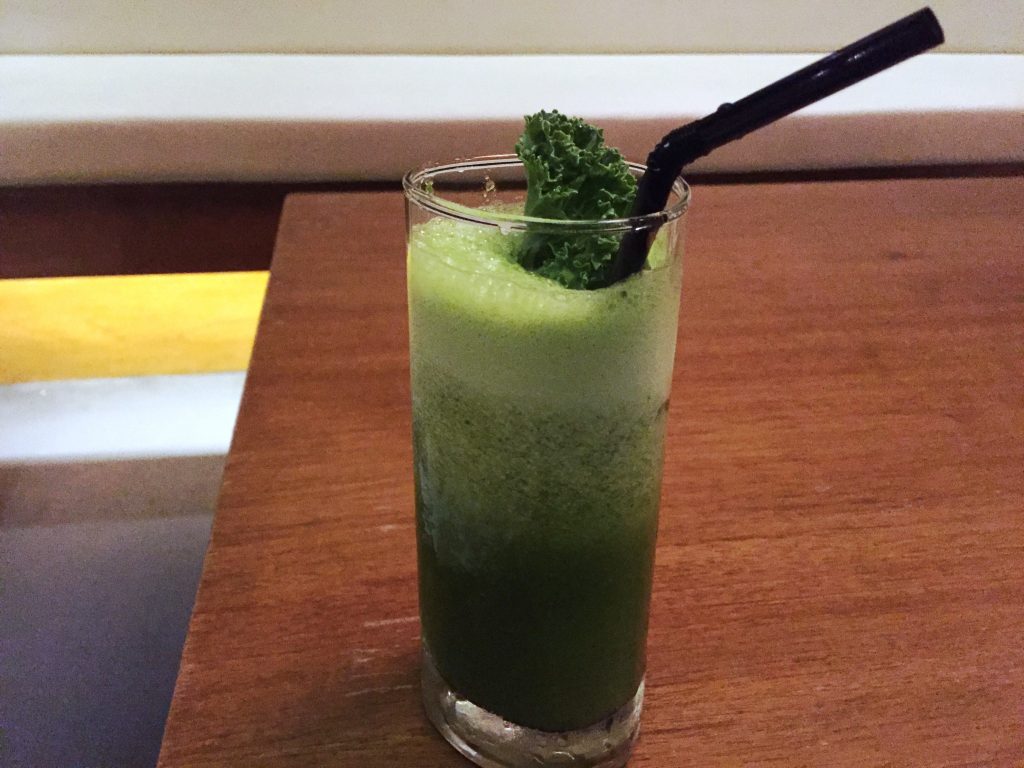 I notice a lot of vegetarian options in their menu specially in their bar nibbles and appetizer courses so people that avoid meat can rejoice. Since we're such a meat crazy table we started with a pizza called Three Little Pigs which as I'm sure you've guessed is a winner. With pepperoni, bacon, sausage and onion jam it's something everyone enjoyed but yes that caramaized onion jam adds a slight touch of sweetness.  The 20 Hour Braised Buff Cheek Slider isn't what I would have ordered but I'll thank the ladies for picking it because it was a hearty slider after ages. What I like is their version of the bread which isn't the typical mini burger but instead a soft warm ladhi pav. It helps because it makes the slider more filling and there are plenty of slider choices but us meat lovers went straight for the beef.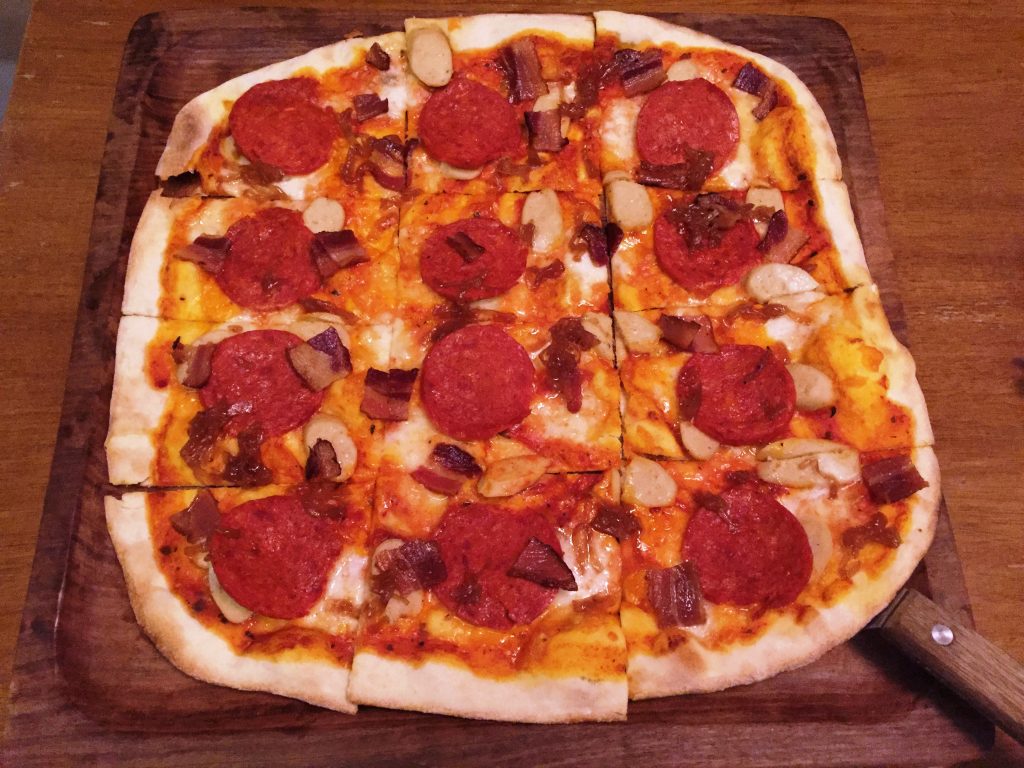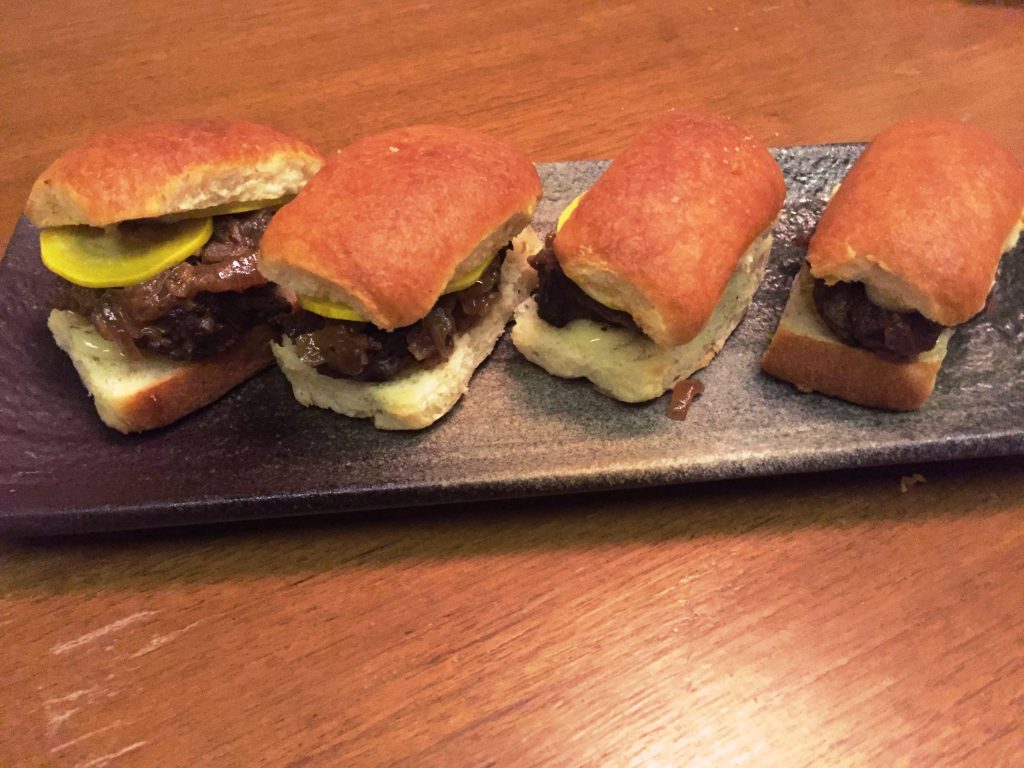 There are plenty of obvious and popular choices on the menu but we tried to pick the more unusual ones in an effort to be adventurous. The  lime and chili tandoori prawns with kimchi and sticky rice sounded as different as different could get but sadly the two drastically different ingredients didn't seem to marry quite as well. It served in a way that makes you think it's tandoori sushi which the chef assures me is not. The prawns are delicious but the rice is underwhelming and my feedback to them was to just do away it it entirely though they insist they will try another version of sticky rice. I hope the experiment is successful as it sounds interesting but at the moment I'd say just stick to the prawns as is.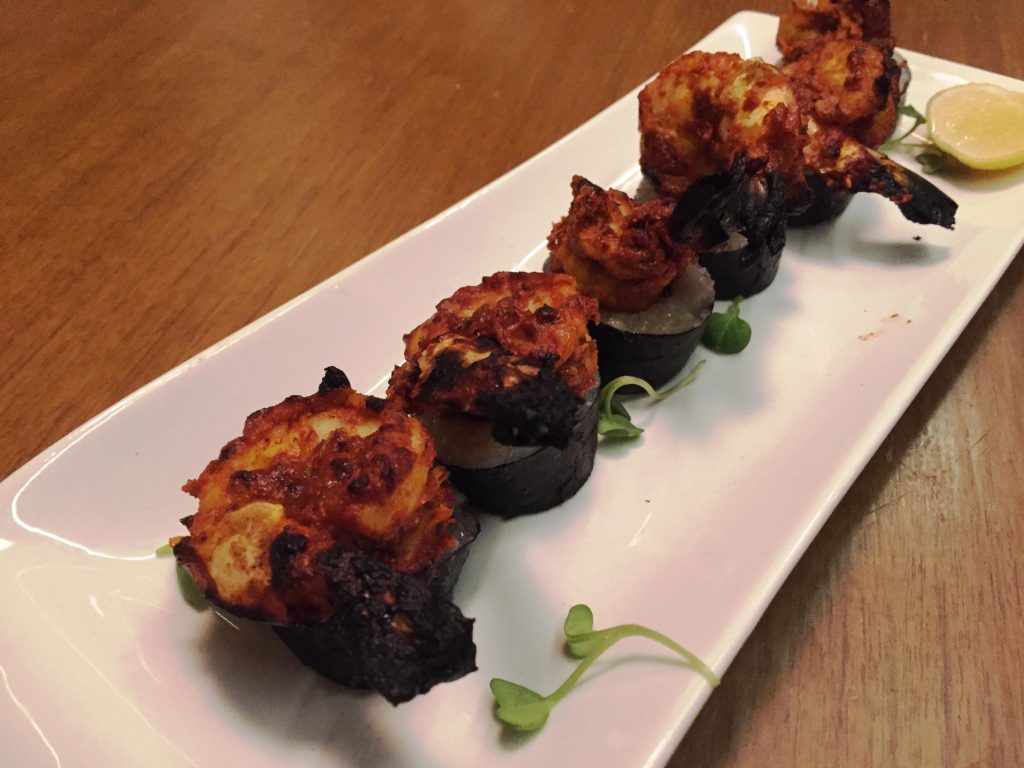 Keeping with this ' lets try exotic sounding dishes ' we chose the Kinilaw which the menu says is a Philippine version of Cevi ( che ? ) It's basically salmon with pickled cucumber soy, sesame seeds, hazelnuts and wonton crisps on top. I've had versions of this at other places and while this is a salad it is tasty but not nearly as memorable as the other dishes eaten.
Not that it was rivetingly different but huge Edamame fans on the table so a round of their Edamame with yellow chili and Himalayan salt and truffle salt. I didn't eat these honestly so can't judge but they were gone in 60 seconds so clearly they're a hit. What was beautiful and I'm told a peek from the new menu that should be launched in a week is this simple but superbly tasty dish of scallops and pork belly. I'd come back just for this dish.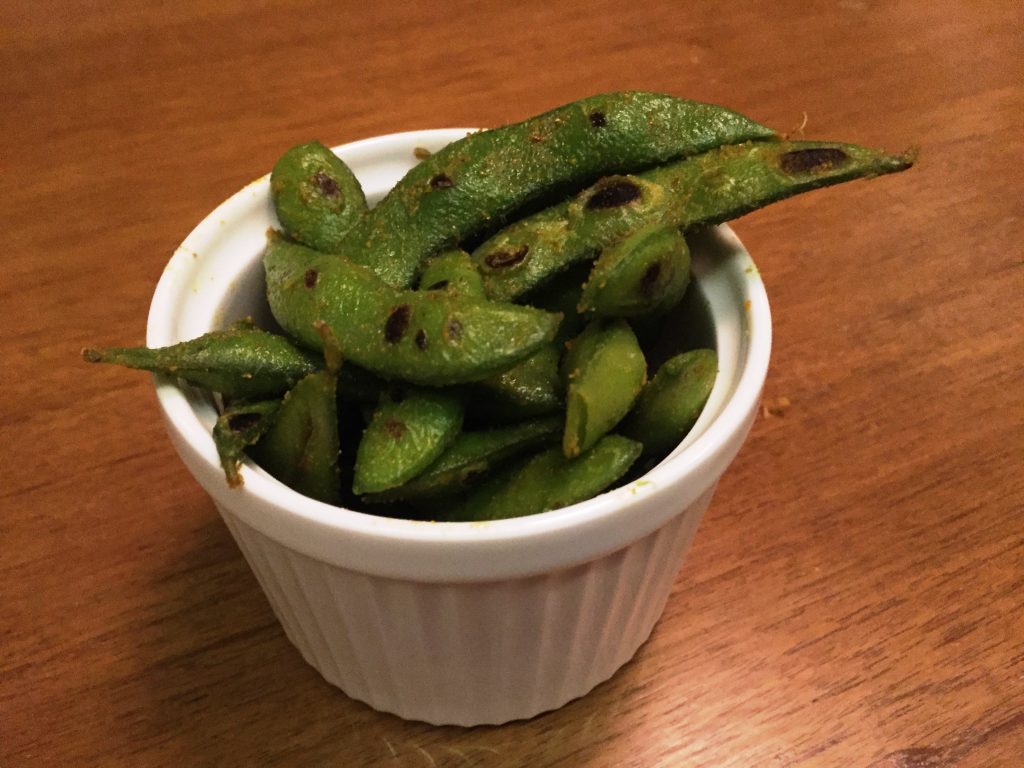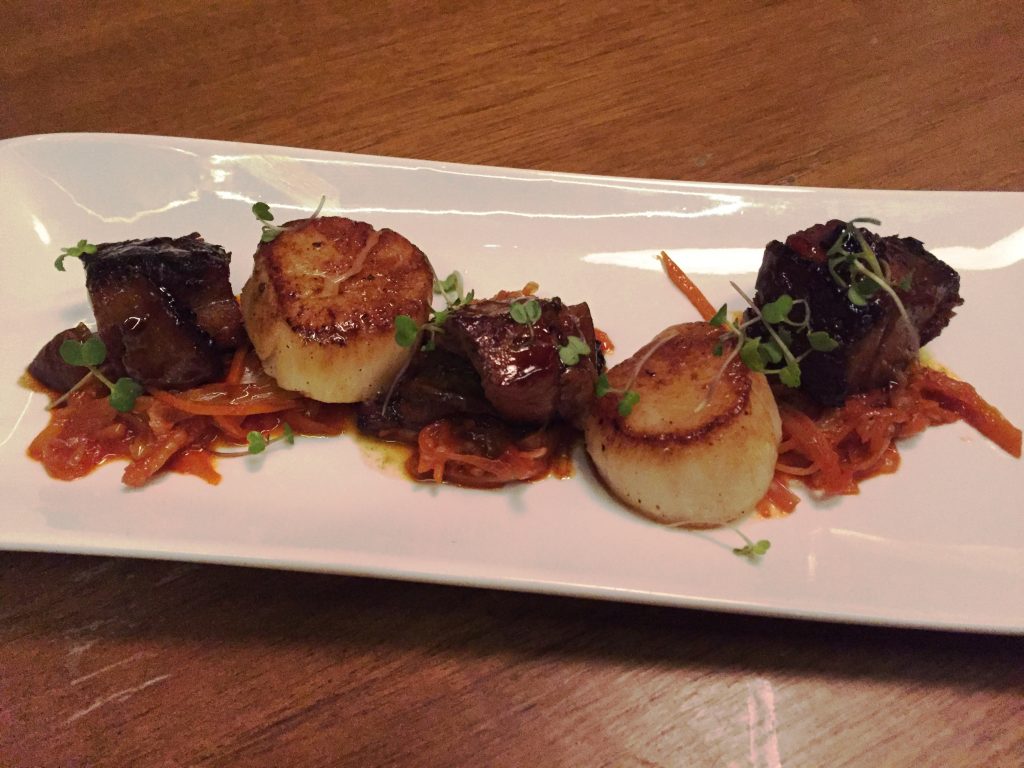 We skipped all their pasta, risotto, waffles and all the many versions of mac and cheese and stuck to the proteins. The Lobster in butter garlic sauce comes served on a bed of mashed potatoes and grilled vegetables and makes for the perfect meal. You can also have it grilled with Goan rechado spice but with seafood I like it as light as possible so I can taste the fish. Possibly the most expensive item on the menu and rightly so with it being a lobster but well worth every penny spent.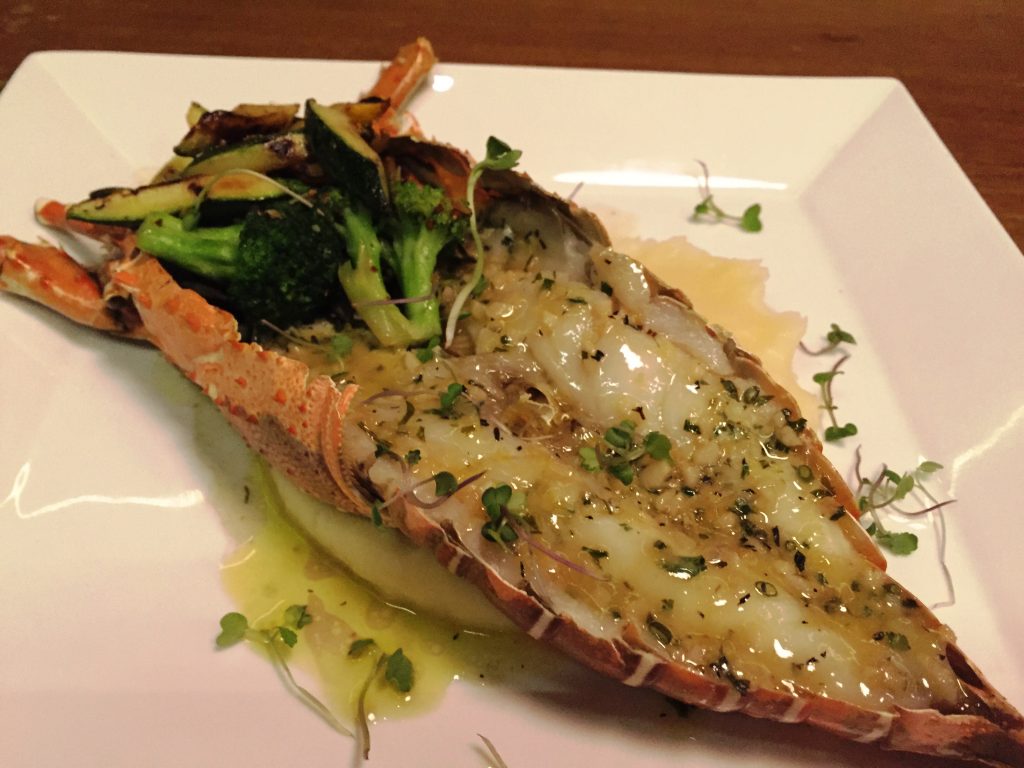 We really wanted to try their Lamb Rack with Israeli couscous but it wasn't available so we went for the next best sounding dish which is their Buff on Buff. What that is really is a beef lovers delight. A beef cheek ragout with tenderloin medalians along with mushrooms and baby carrots. I might have liked a touch of potato, maybe a mash to round it off but this along with the scallops and pork belly and the lobster comes highly recommended. That meat is soft tender and just worth every calorie.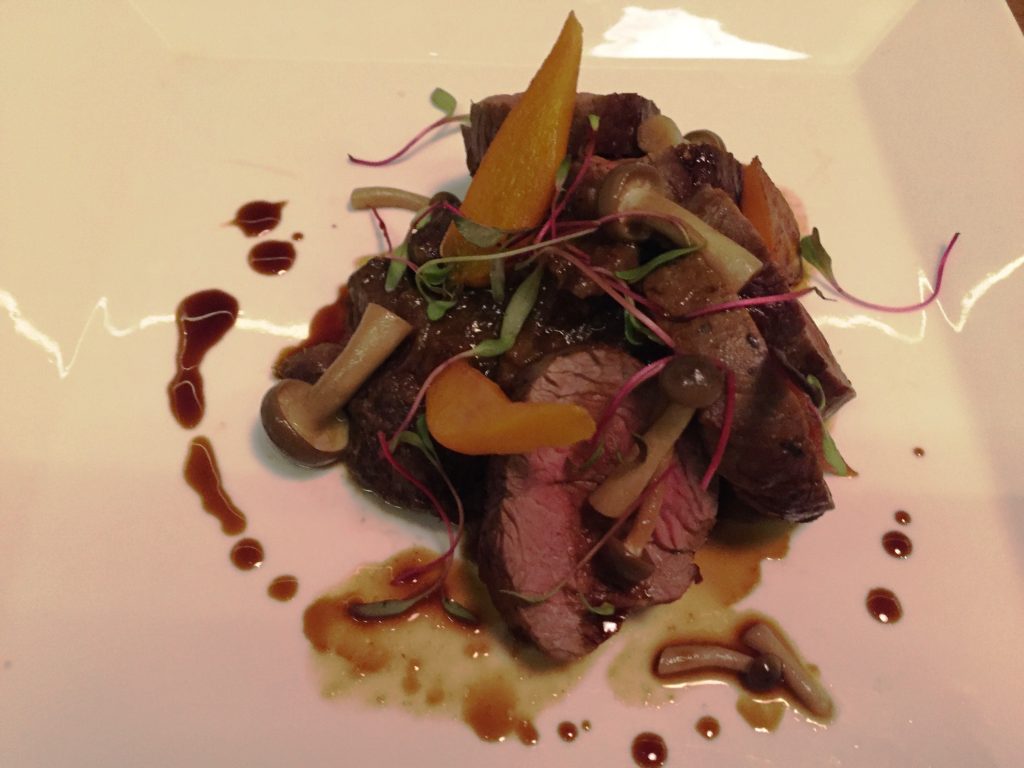 The buttered roast chicken with root vegetables and a mustard jus was soft and tender I'm told but again I didn't taste it.
Again I'm not a dessert fan and these were all picked by everyone else on the table. I had a bite or two of the Cognac Cheesecake with ginger cookies and bourbon smoked honey and I'll admit that was such a delightful change from the usual cheesecakes. Almost all their desserts seem alcohol soaked but noone's really complaining.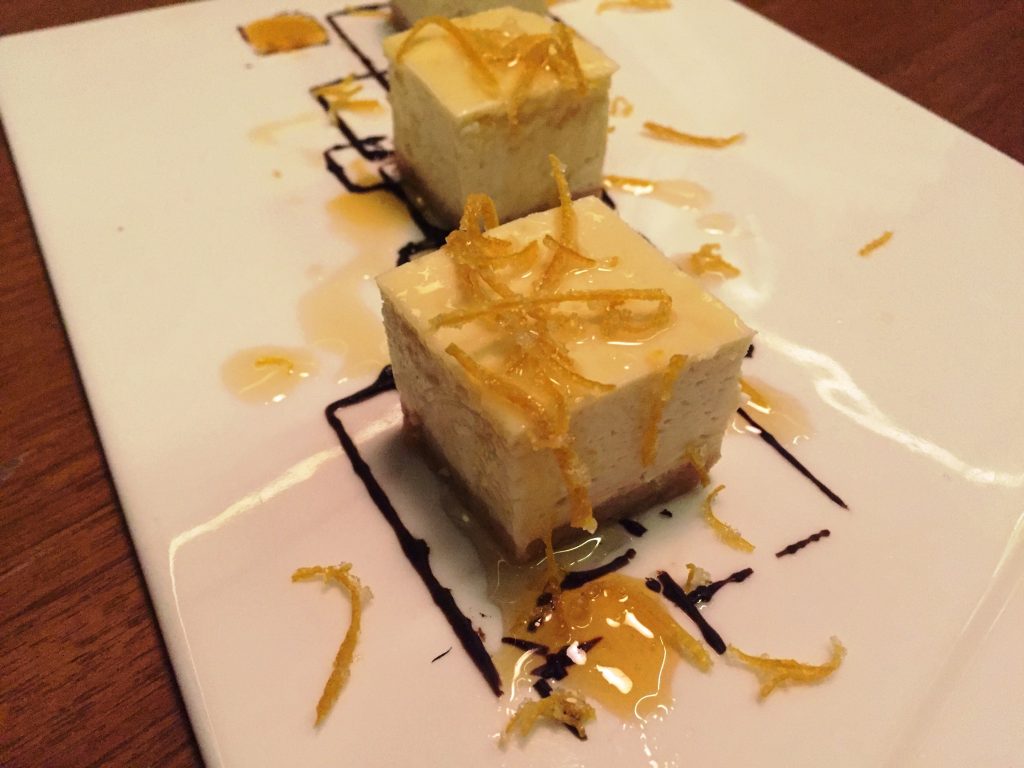 The other desserts included a Velvet Chocolate Bomb with Cointreau jelly, a seasonal fruit tart which had figs and a hazelnut entrement with amareto and a scoop of expresso icecream.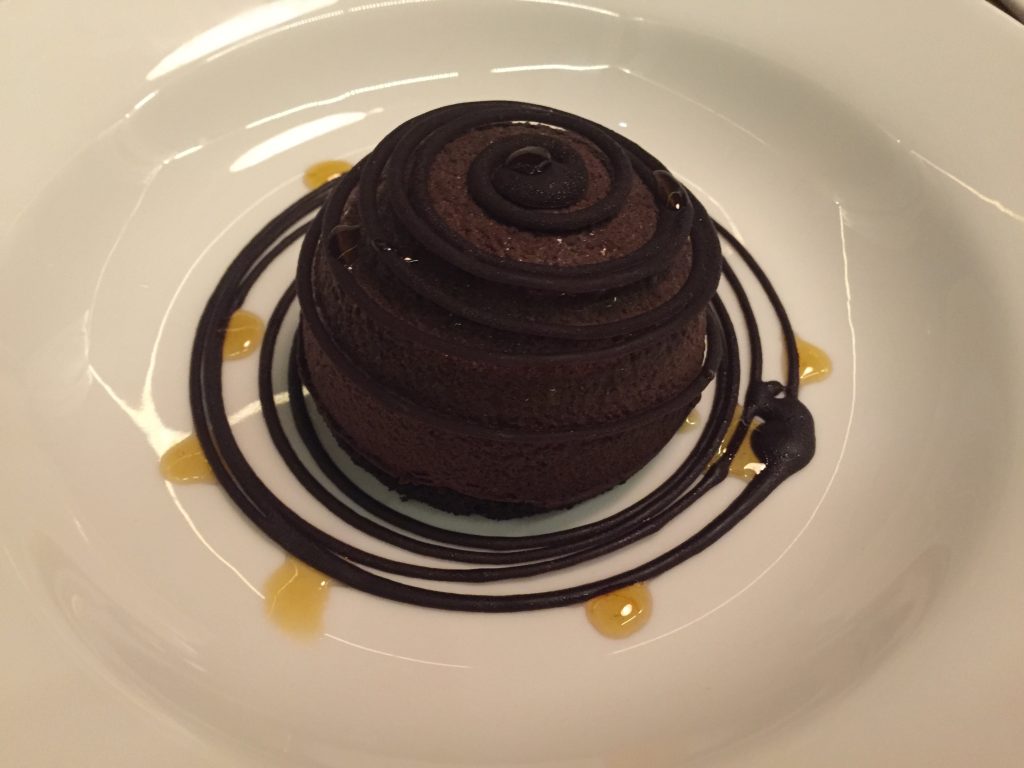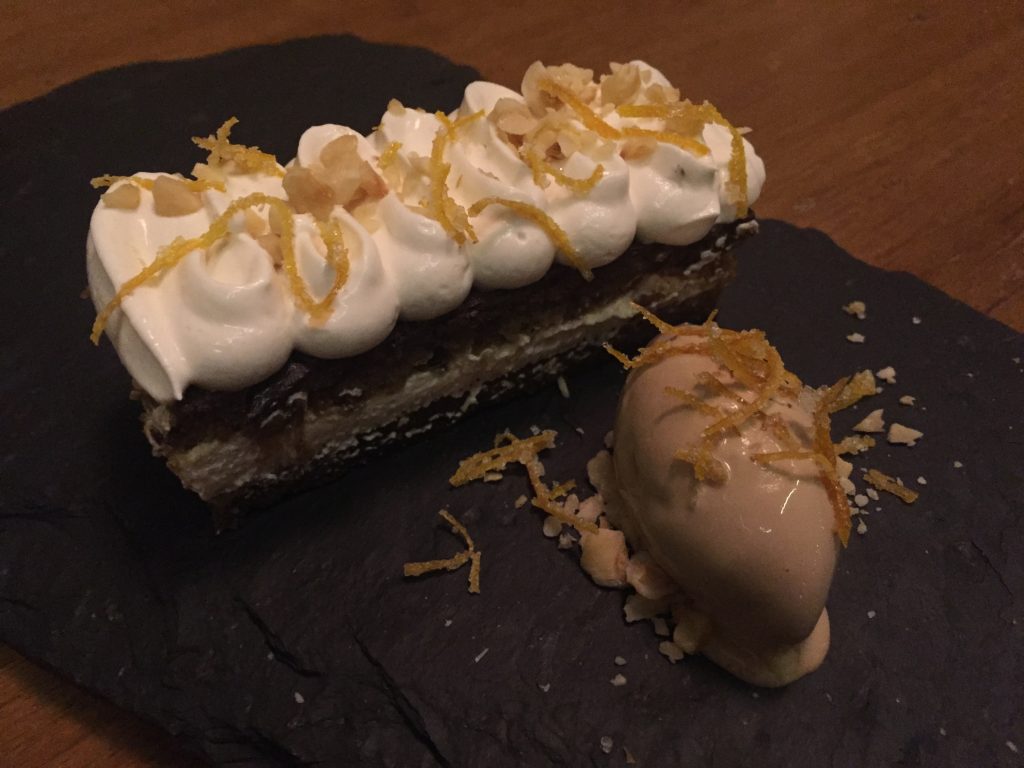 They were kind enough to give us a peek into their new menu and another concept I found interesting is what they're calling dessert shots. Their bartender is adding his boozy twist but there are plenty non alcoholic ones as well. In stead of the entire dessert which is too much for some people, they have a liquid version which is serve in a shot glass. There was a liquid version of a baked cheese cake, a chocolate with negroni and a chocolate coated potato chip and a banana and caramel with rum infused. We could barely finish them but they were beautiful samplers for something I haven't really seen on any other menu.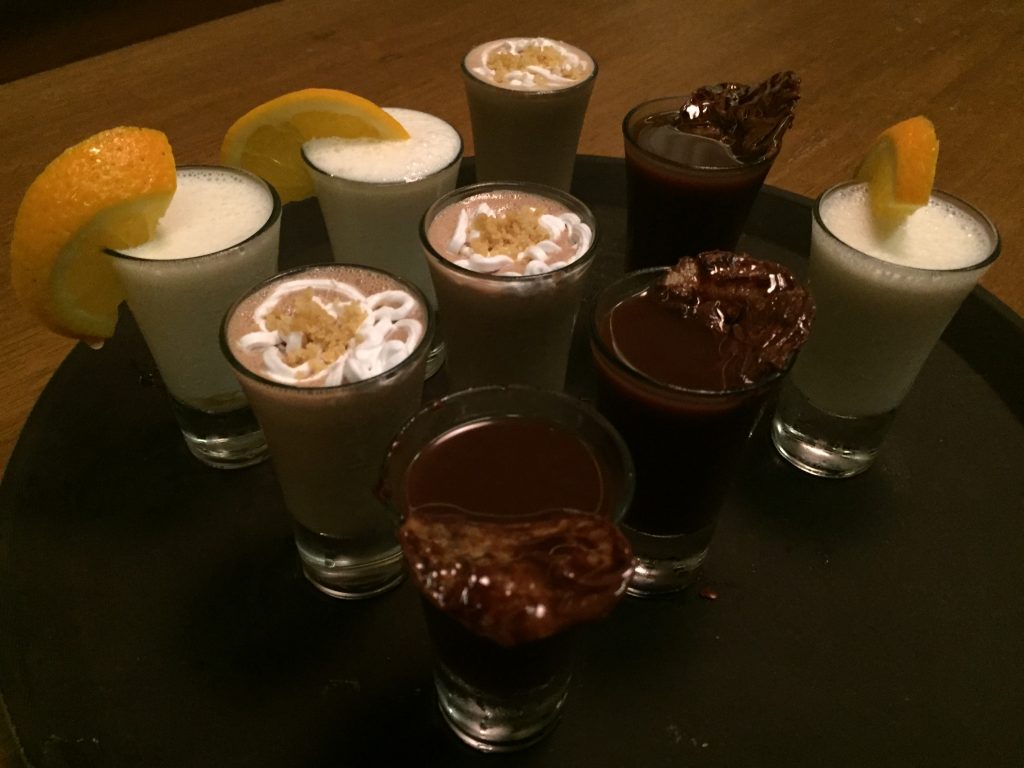 To sum up, we had a beautiful night celebrating how fabulous we all are with lovely food in a pretty environment. It goes without saying we're all going back. Maybe for the Sunday brunch when they start or maybe next week for round 2. Swey is operational from 5pm onwards.
Disclaimer : I was hosted by the restaurant but as usual all thoughts and opinions are my own. 
For more updates on my food and travel adventures, follow me on Facebook, Twitter, Instagram and Snapchat : thetinytaster